Evolution of a Name
1922 | Fort Worth Community Chest
1950s | Tarrant County United Fund
1962 | United Fund and Community Services Inc.
1973 | United Way of Metropolitan Tarrant County
Today | United Way of Tarrant County
Growth of a Vision
1922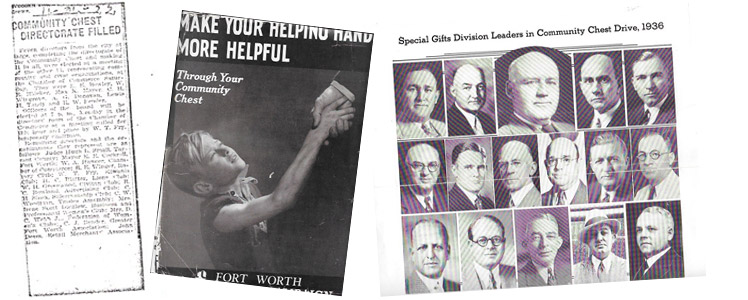 Our founding: When a group of Fort Worth community leaders gathered to combine the fundraising efforts of several local charities. Instead of competing for volunteer time and funding, they pooled resources to create our forerunner, the Fort Worth Community Chest – the first Community Chest in the Southwest.
1930s-1940s
During the Great Depression, we funded unemployment relief and lunches for disadvantaged children, and in World War II, we distributed government flour and raised War Chest funds.
1950s-1960s
We became more strategic, researching community needs more intensely and developing new programs specifically to meet those needs.
1970s-1980s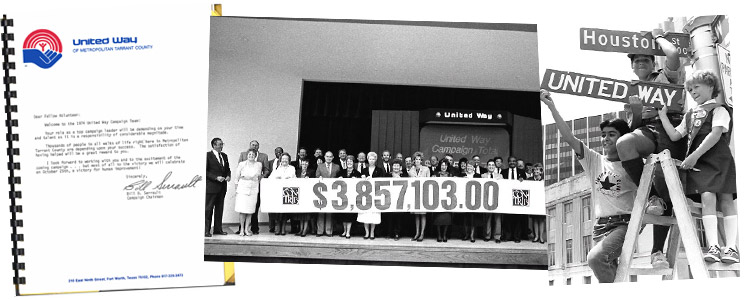 We officially became United Way of Metropolitan Tarrant County, to promote a common identity with similar organizations across the country. We continued to grow, establishing United Way-Arlington in 1981, and United Way-Northeast in 1986.
2000s-2010s
Our extensive market research pinpointed the most challenging issues Tarrant County residents were facing; these lay in education, income and health. We launched our Impact work, directing funds toward three bold goals: LEARN WELL, EARN WELL and LIVE WELL.
2017
To determine our next chapter, we conducted a strategic review of the organization, hosting 12 strategy workshops and engaging more than 70 community stakeholders to ensure we had communitywide input.
2018
Equipped with new understanding, we launched our refreshed strategic plan, introducing a new allocation model, Systems Change, which shifts a portion of funding to focus on the root causes of social issues and find universal solutions for problems that continually impact entire populations. We allocated almost $1 million in Systems Change funding to six organizations.
2019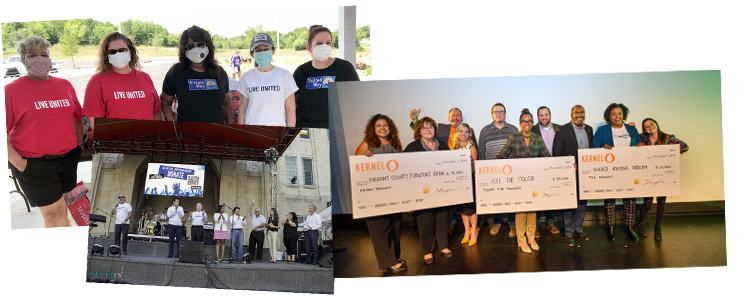 We released the results of our new Community Assessment, which identified the top social issues affecting the lives of Tarrant County residents: 
Housing and homelessness
Health, mental health and wellness 
Transportation
Education, early childhood and youth
Basic needs, emergency assistance and financial stability
2021-2022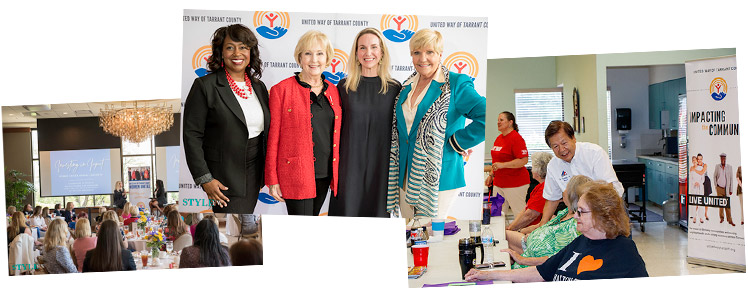 During the COVID-19 Pandemic and Winter Storm Uri, our support of the community pivoted to one of rapid response and emergency aid. We partnered with the City of Fort Worth to distribute $54.9 million in funding from the CARES Act to Fort Worth small businesses through the Preserve the Fort program.
2022-2023
We turned 100 and kicked off our second century with Get United, a strategy focused on four broad categories of transformation:
Community response
Community health
Financial empowerment
Education and learning
The next 100 years
Our second century will be even more exciting than our first.